Prince Harry: Las Vegas Nude Photos
08/23/2012 | Posted by Sylvia Massy in News
Nude pictures of Prince Harry holding weekend party in Las Vegas are leaked by TMZ. The blurred pictures were taken in a VIP suite of a hotel in Las Vegas where the prince was enjoying a private holiday with friends. While a royal rep said, "We have no comment to make on the photos at this time."
According to TMZ, one photo shows Harry, an Apache helicopter pilot in the British army, covering up his genitals with his hands while an apparently naked woman hides behind his back. The other shows the 27-year-old prince, third in line to the British throne, pictured from the back hugging what appears to be the same naked woman. ---
In the recent year, Harry earns good reputation with his serving in the army in Afghanistan. He seems to inherit the goodness from his mother Princess Diana and change his public image from a playboy to a brave soldier. Some other pictures about Prince Harry.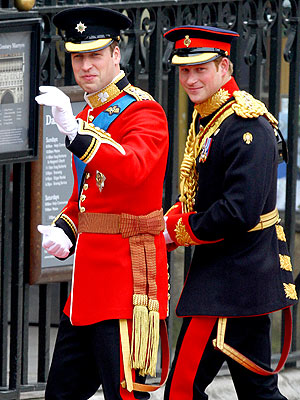 [Prince William (left) and Prince Harry]